[ad_1]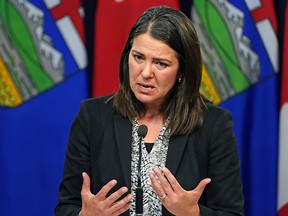 Article content
She got it.
Apparently, Premier Danielle Smith finally got it.
Article content
Thank God for that.
Better late than never.
But why do so many politicians follow the same tortured process?
They do everything they can to avoid the inevitable.
They do not seem to comprehend the power of a good act of contrition.
They may even have trusted advisers who tell them to tap dance, stickhandle, bob and weave and just try to run out the clock when the crap hits the fan.
The trusted advisers may tell them the issue at hand is really no big deal.
It's just lousy axe-grinders and rabble-rousers and opponents making a mountain out of a molehill.
Weather the storm. This will all blow over with enough hot air coming out of the government exhaust.
Did Smith receive such advice or something sounding like it?
If she did, it was stupid.
Article content
Surely there had to be one smart soul on Smith's team who suggested doing the right thing and doing it quickly.
Was that smart soul's sage advice disregarded?
Say it ain't so.
If it was, Smith has got problems.
We're not done.
Some of Smith's supporters no doubt figured it was the press, the critics, some kind of conspiracy of sinister people from the political underworld stirring the pot, some legion of politically correct whiners cooking up fake outrage.
These misguided souls clearly would rather stick to their guns and see Smith tank and not win the next election because that is exactly what will happen if this new premier does not get her act together … and pronto.
There could be more questionable past Smith commentary coming down the pike and there must be a strategy to deal with it.
Article content
Meanwhile, on Tuesday, voices demanding Smith face the music just grew louder in volume and larger in number.
People from across the country were asking people from this province: What's wrong with your new premier?
We're talking about Ukraine. We're talking about the brutal invasion of Ukraine orchestrated by an SOB of the Grade A variety by the name of Vladimir Putin.
We're talking about all the scenes of brutality, of horror, of dislocation and of death, right there on the worldwide screen for all to see.
We're talking about a province with many individuals of Ukrainian heritage who have helped build this province in a big way and are now suffering, as they watch from afar and help where they can, while we stand in support of the defense of their country .
Article content
Alberta Premier Danielle Smith apologizes for past comments on Russian invasion of Ukraine

'Move on': Premier Smith blames media for inflaming remarks on Ukraine

Calgary fundraiser offers support as winter descends on war-torn Ukraine

Facing heat on Ukraine, Smith decrees 'politicization' of conflict
But something surfaces from Smith earlier this year and it is not good.
First sentence.
"This site has an alternative perspective on the Ukraine invasion and who escalated first."
She then seems to put part of the blame for the invasion on NATO, of which Canada is a member, and Ukraine.
There is more, some echoing Russian talking points, but you catch the drift.
On Sunday, Smith talks about the attempted politicization of the issue and how peace will not be achieved by virtue-signalling.
Article content
No walking back.
On Monday Smith says we could re-litigate every statement she made in the past with the different hats she's worn but the public isn't interested.
The premier goes on about the media wanting clicks and outrage and she wants to deal with issues important to Albertans.
Like how the unvaccinated are the most discriminated-against in her lifetime.
I digress.
Smith says she would like Albertans to move on.
NOTE TO SMITH: Many Albertans would like to move on from COVID.
And then the moment of truth. There is nowhere to go but the confessional.
The UCP MLAs huddle for their retreat and their navel-gazing must have borne fruit.
Smith's apology occurs late Tuesday, well after many deadlines had passed.
It is an hour usually reserved for taking out the trash, because those wanting to dump something off their plate don't figure newshounds will drop what they're doing and burn the midnight oil to cover the breaking story.
Smith says her comments on Russia's invasion of Ukraine are now "ill-informed."
Her "knowledge and opinion" has "drastically evolved" in the past months.
She apologizes for her previous comments.
Thank God for that.
It wasn't hard. Smith and her people made it hard.
They must do better. Starting now.
rbell@postmedia.com