Article content
The number of cops killed or narrowly escaping death in recent weeks make it clear Canada is heading down a perilous path.
Article content
And the Toronto Police Association says "enough is enough."
Article content
"For too long vocalized interest groups that do not represent the majority of our communities have dominated the conversation as they seek to villainize our police officers," TPA President Jon Reid said Wednesday, less than 24 hours after cops came under fire in Scarborough.
"We must start to ask ourselves if the persistent attack over the last several years has contributed to the lack of respect and overt attempts on their lives because enough is enough," he added emphatically.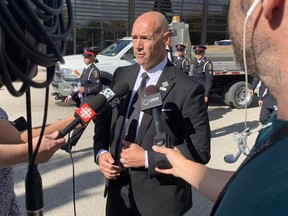 In the last five weeks, four cops have been either shot or stabbed to death while on-duty. Such lawlessness and lack of respect for authority may be common in the US, but so much violence against police in such a short time span is unprecedented in Canada.
In the most shocking incident, Toronto Police Const. Andrew Hong, 48, was executed at a Tim Hortons in Mississauga on Sept. 12. The shooter — Sean Petrie, 40 — left two others dead and two wounded in his rampage before being shot dead by cops in Hamilton.
On Sept. 22, Peel Regional Police officers came dangerously close to being run over while trying to stop a driver in Brampton. Yudhbir Randhawa, 31, of Quebec, was charged with impaired operation, flight from a peace officer, failure to comply with a release order and various drug offenses. Two passengers — Harpreet Saggu, 41, of Brampton, and Jashanpreet Singh, 23, of Quebec — were also arrested on drug charges.
Article content
On Oct. 4, a fleeing motorist in a white car with Quebec plates deliberately ran down a Toronto Police officer as cops attempted to make an arrest in a Scarborough. The officer was hastened to hospital but was not seriously injured.
On Oct. 11, South Simcoe Police Consts. Morgan Russell, 54, and Devon Northrup, 33, were shot to death while responding to a domestic disturbance inside a home in Innisfil, Ont. Gunman Chris Doncaster, 23, was fatally shot.
On Tuesday morning, RCMP Const. Shaelyn Yang, 31, a mental health and homeless outreach officer, was stabbed to death at a homeless camp site in Burnaby, BC The suspect, identified as Jongwon Ham, was shot during the incident. Ham has been charged with first-degree murder.
Article content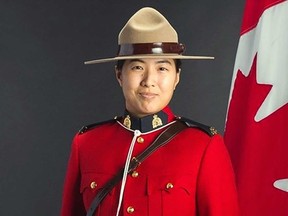 On Tuesday night, Toronto cops were trying to arrest a wanted man in Scarborough for a shooting in March when he allegedly pulled out a gun, opened fire and took off into a house. The gunman allegedly fired another barrage of shots at officers from inside the house.
Fortunately, only a police vehicle and neighboring house were hit.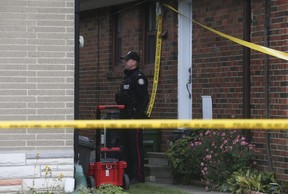 Thomas James McMahon, 35, faces three counts of attempted murder and an assortment of gun charges.
"This level of violence and complete disregard for the lives of police officers cannot be tolerated," the TPA boss said. "Our members do not deserve this and yet they continue to put their uniforms on every single day and report for work."
WARMINGTON: Disturbing video shows York cop 'had no chance' when he was savagely attacked

Toronto cops cleared of wrongdoing in violent man's arrest at protest

BLUE TEARS: City says goodbye to hero cop Jeffrey Northrup

STROBEL: Paradise lost — death of OPP officer shakes Manitoulin
Reid vowed the TPA will continue to "raise public awareness, attend bail hearings for those accused of attacking our members, and speak out about the need for meaningful reform to bail legislation."
cdoucette@postmedia.com
On Twitter: @sundoucette