Article content
SUNRISE, Fla. — MacKenzie Weegar apparently wasn't expecting this sort of crowd.
Article content
"There's this much media in Florida?" he quipped.
Article content
Hockey isn't always the hottest topic around these parts, but this is a shoo-in storyline. Saturday's Showdown in Sunrise marks the first clash between the Calgary Flames and Florida Panthers since a slobberknocker of a summer swap, the blockbuster sign-and-trade that brought Matthew Tkachuk to the beach and prompted Weegar and Jonathan Huberdeau to start shopping for snow boots.
Article content
Huberdeau was only joking when he warned that he might cry after Friday's chit-chat with reporters in his old stomping grounds, although he is expecting a wide range of emotions when he strolls into the visitors' locker-room at FLA Live Arena and ultimately skates onto what was his home ice for a full decade.
Article content
"I feel tomorrow it's probably going to get to me a little bit," Huberdeau acknowledged. "In the summer, after the trade, I circled that date. Obviously, I want to do well and I want us to win. And after that, it's turn the page. That's how it's going to be."
Echoed Weegar, who spent six seasons surrounded by swaying palms: "I think when we play this game tomorrow and thank everybody or we get the salute or maybe a couple boos … I have no idea what the reception is going to be like. But I think at the end of the day, when the game is all done, it's kind of the end of the chapter, which is probably the most emotional part about it. But I think we're ready to move on."
Huberdeau has to receive a hero's welcome, doesn't he?
He departed as Florida's all-time franchise leader in both points and games played, and it's not like he asked for a change of scenery. The 29-year-old left-winger was, by his own admission, shocked by that late-night phone call from general manager Bill Zito, reportedly punctuated by a two-word send-off not fit for print from the typically polite forward.
Article content
Weegar, too, was a fan favorite, although the 28-year-old blue-liner irked those passionate about the Panthers with a comment prior to training camp that he'd switched from "a good team" to "a better team."
"I might get booed, that's what (Weegar) has been saying," Huberdeau shrugged, trying to be ready for anything. "I gave everything I had here, so we'll see.
"That was 10 years of my life and my career and it was home for me, so hopefully I get a good ovation."
It's home for Tkachuk now.
When the 24-year-old isn't driving the net, he's driving a golf cart around the community of Las Olas — and absolutely loving it.
"It's not going to sound great, but I've probably already closed it," Tkachuk replied Friday when asked the first chapter of his NHL career — a stretch of six campaigns in Calgary. "I mean, I have to. You have to move on. I have great memories there, but it would be unfair to my teammates here, to the fans and this whole organization that put a lot into this trade and into getting me … It would be unfair for me to not close that book."
Article content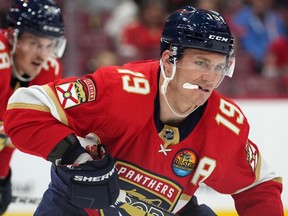 Tkachuk was planning to host some of his old teammates for dinner Friday.
Weegar, meanwhile, was anxious to catch up with his close friend and former defense partner Aaron Ekblad.
"We'll have good stories to tell," he grinned. "But tomorrow, if I run him, I think we'll understand why."
Flames bench boss Darryl Sutter told reporters — close to 20 of 'em — after Friday's practice that he understands why Tkachuk essentially forced his way out of town, telling the team that he wasn't willing to sign a long-term extension. He was eligible to be an unrestricted free agent next summer.
As Sutter put it, "It had nothing to do with Calgary. For Matthew, I think COVID sort of alienated him from his family and from the US."
Tkachuk's stats haven't dipped since his move south. He leads the Panthers with 22 points, and that's despite sitting a pair of contests due to suspension.
Article content
Huberdeau was hoping to have much bigger numbers when his homecoming rolled around. He has managed only two goals and a half-dozen helpers in 13 appearances in his new logo — he also missed three games due to a foot injury — but has shown signs of late that he is starting to find his groove.
The Flames aren't exactly on a heater, either, with a 2-6-2 record in their past 10 dates.
"You look at Jonathan, that was an emotional time for him, and I think that's why he had a hard time early on," Sutter said. "He wasn't expecting to be traded out of Florida, so I think that was tough for him. Now, his game is where you want it to be. But that takes time. Matthew made that choice and he was ready for it, so he's jumped right in."
On Saturday morning, if they so choose, Huberdeau and Weegar can dip their toes in the water at Fort Lauderdale Beach.
On Saturday afternoon, they'll try to make a splash of another sort. Puck-drop is set for 2 pm MT.
"I want to play well against them and show them what I can do," Huberdeau declared.
"You smell the Florida air and you get nostalgic," Weegar added. "It's going to be good to get that over with, and then you can kind of just cut the cord officially.
"A lot of emotions built up, but I'm super excited to put forth my best effort. And I want to kick their ass.
Twitter.com/WesGilbertson