Genshin Impact is a multi-platform sensation that has taken over the Gacha genre by storm. With breathtaking visuals and regular updates, it only makes sense for the game to expand its wings on multiple platforms. Therefore, the game needs to have some sort of crossplay as well.
You need to play your characters by using different combinations of skills and attacks to find success in the world of Genshin Impact. miHoYo has done a good job of balancing the overall playmaking of the characters to feel the same regardless of the platform.
Genshin Impacts supports cross-platform on all supported devices – PlayStation 5, PlayStation 4, PC, IOS, and Andriod. As a console player, you can party up with both PC and mobile players seamlessly.
The game has generated nearly $400 million in revenue within its first two months of release. Therefore, it is only natural for it to expand to multiple platforms just as fast. And, it seems to be doing just that!
How to Play Genshin Impact in Cross-Platform Mode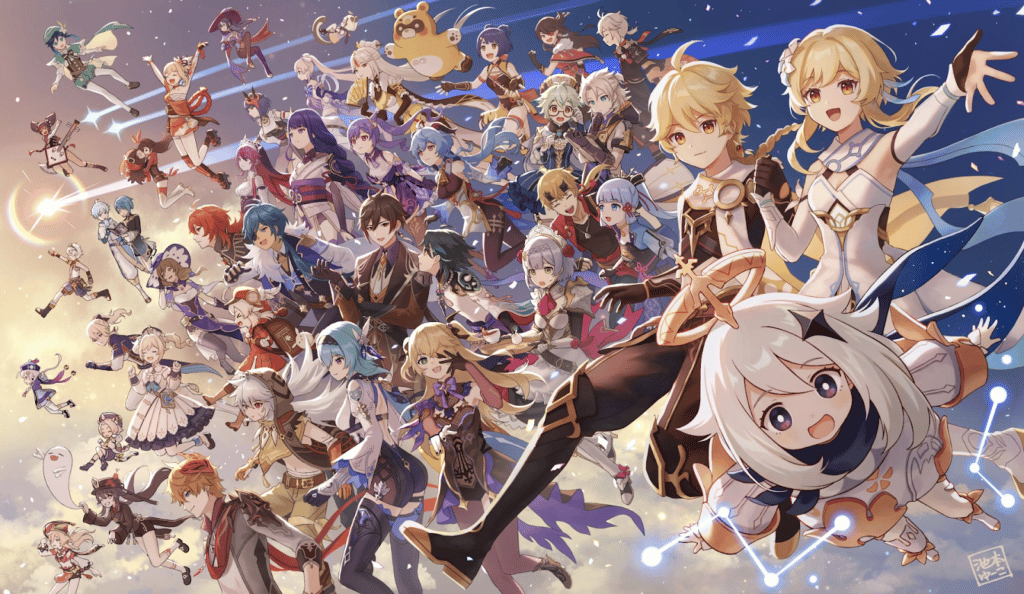 With Co-Op being one of the better ways to farm in Genshin Impact, you would inevitably want to play with your friends. Thankfully, the game lets you play with each other regardless of the device you're playing on. There is no differentiation between PC, PS5, and even the mobile version too.
Therefore, it is simple to get started, here is what you will need to do:
Have all your friends log in to the same server. You can join a friend's world by following the steps below:

Open the pause menu and click on Friends.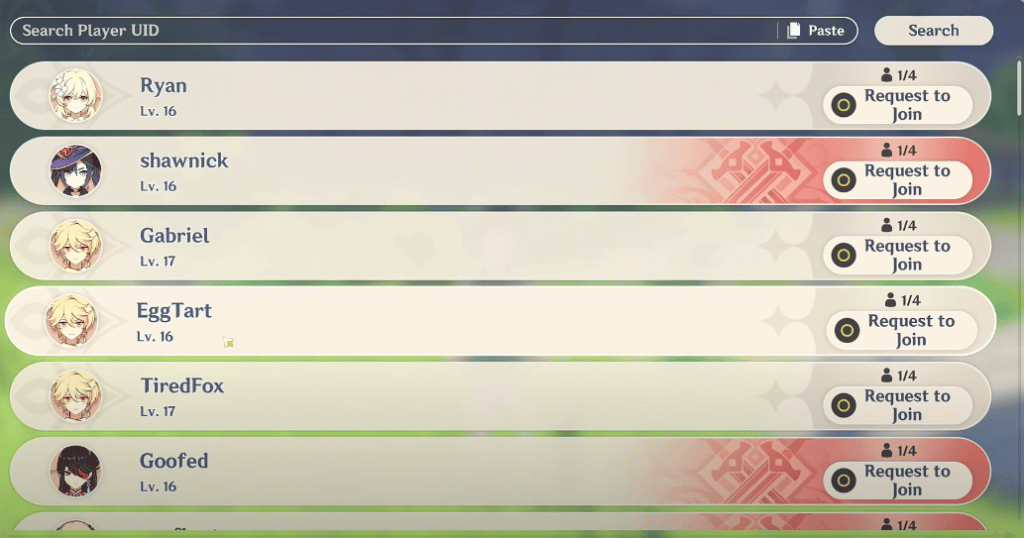 Head to the middle tab in the Friends menu and input their nine-digit UID.

Send a friend request and wait for them to accept.
Open the menu again and select co-op mode.
Select the My Multiplayer option and enable Direct Join or Join After Approval. 

Form a party with each other and go exploring together.
Cross-play Restrictions in Genshin Impact
There are a few restrictions that are inherently present in the multiplayer mode that you should know of. By playing multiplayer, you won't be able to progress through the Archon and Story quests. These quests are related to the main storyline and are only available in solo play. 
In a party, each player is stuck with a single character. For a three-player party, the first player will get to choose between two characters while the others are stuck with one character. 
How to Unlock Multiplayer
You will need to complete a series of quests before being able to play with your friends. Once you have reached Adventure Rank 16, the icon for the Multiplayer option will show up on the menu. This is the main indication of the multiplayer mode being unlocked. Simply click the option and join a session to play multiplayer. 
Honing a keen idea of how elements and resonance work in the game will end up adding to your ability to level up faster to unlock Multiplayer quicker.
How to Cross-play on PS4 in Genshin Impact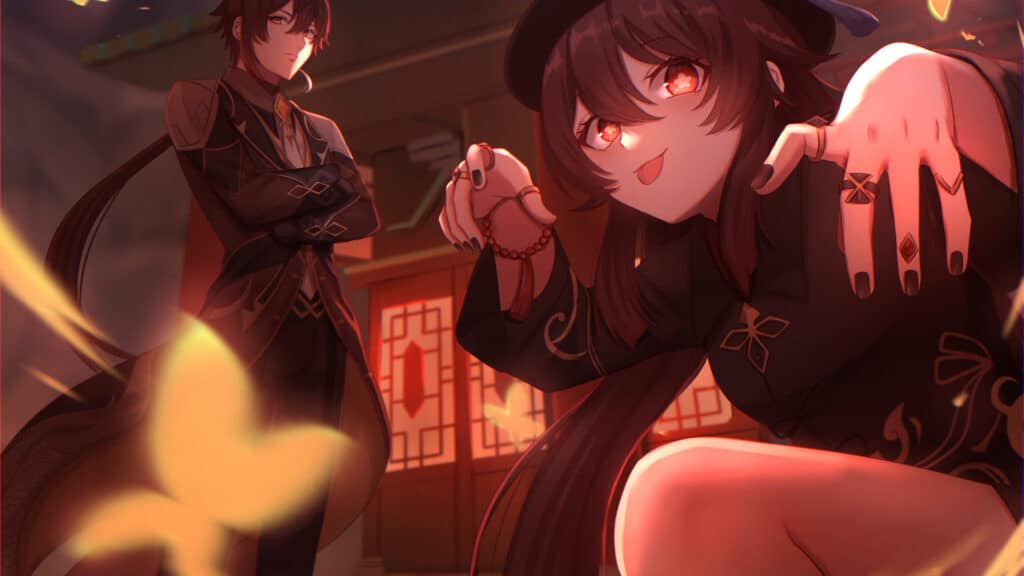 The PS4 requires you to have an active PlayStation Plus subscription in order to play online. Once you and your friends have reached Rank 16, you will have to add each other through the UID code. You can check your UID code from the bottom right corner of your screen. 
Related: 10 BEST Non-Canon Genshin Impact Ships
You will have your Genshin Impact friends list pre-populated with your existing PlayStation friends, therefore you will not need to add them unlike your PC and mobile friends. Make sure to check out all the latest redeem codes that both you and your friend can use to progress even quicker!
Can You Play Genshin Impact on PS5?
If you've ever wondered to yourself, Is Genshin Impact Cross-Platform? Well, as we've answered earlier, yes it is! However, unlike most titles which tend to not support next-gen consoles right out of the box, Genshin Impact can be played by using the backward compatibility feature present on the next-gen console. The console version is fully compatible with Xbox, PS4, and PS5 variants. 
Therefore, your friendly adventures should go without a hitch on the next-gen PS5. With that said, you can carry your PS5 progress on other platforms as well. 
Can You Unlock 120 FPS on PS5?
Unfortunately, you cannot enable 120 FPS gameplay on a PS5 console. The iOS version has had this option enabled for a long time and it's expected to hit consoles soon. The game is capped at 60 FPS for Android, Playstation, and PC as of now. 
Bonus Tip: You can resort to ulterior ways to get 120 FPS on Genshin Impact on PC too! Let us know and we'll be glad to cover it soon!
Can You Play Genshin Impact on Xbox?
No, Genshin Impact is not available for Xbox.
It is really unfortunate to see such a big title not being on Xbox but it is partly Microsoft's fault. Back in 2017, Microsoft's team met with the Chinese developers in hopes of making Genshin Impact an Xbox-exclusive title. Both parties didn't reach a solid conclusion which lead to Sony taking the lead by adding the game to its list of exclusives.
If you want to know when is Genshin Impact releasing on Xbox, then cross your fingers and pray because the likelihood of that happening seems like a far-fetched dream. Team Green might have to take this loss and hope that one day both companies bury the hatchet and shake hands because only then we will see Genshin Impact on Xbox.
Does Genshin Impact Have Cross-Progression?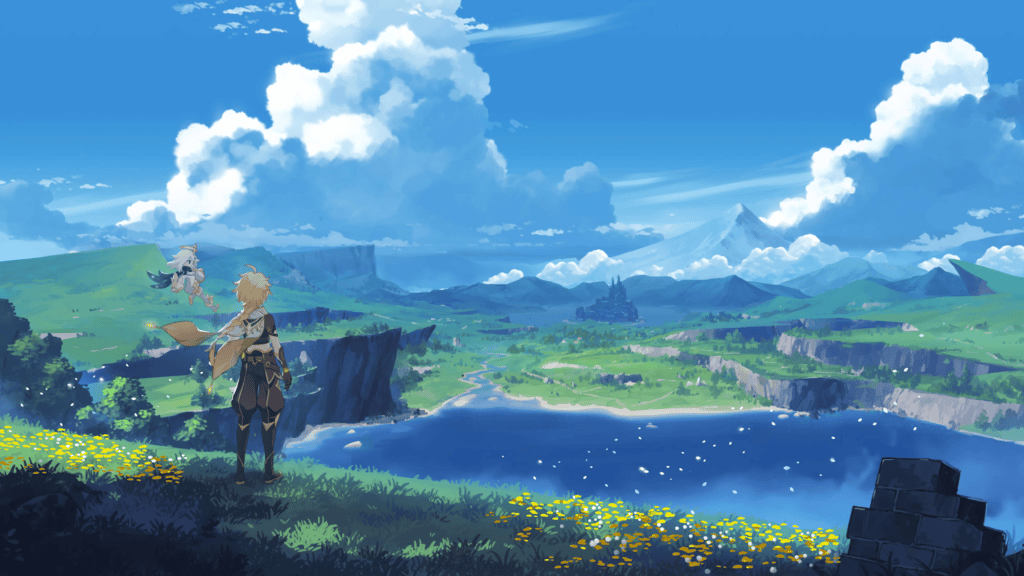 Yes, Genshin Impact supports cross-progression.
Genshin Impact features gacha-styled mechanics when it comes to purchases with Primogems and wishes. Therefore, it is necessary for the game to have a cross-save for microtransactions and such in-game currencies. 
How Does Cross-Save Work in Genshin Impact?
The Cross-Save in Genshin Impact is connected to your email account. Therefore, signing into your miHoyo account will do the trick. You will be able to save your progress to your account in real-time regardless of the platform.
Alternatively, you can also link your PSN with your miHoYo account to initiate cross-saving in Genshin Impact. 
---
All in all, Genshin Impact has both Crossplay and Cross save on all supported platforms. You can also play the game on next-gen PS5 consoles along with Android and IOS smartphones. Every server in the game supports cross-play.
Once you've got your friend in the same world as you, why not go through all the beautiful locations that Genshin Impact has to offer? You'll definitely end up finding a place that resonates with everyone!