Receiver Isaac Foord has sights set on Canadian Bowl championship with Thunder after the passing of his mother, Christel.
Article content
Isaac Foord won't just be playing for the Regina Thunder in Saturday's Canadian Bowl.
Article content
The Thunder's all-star receiver will also have his mother on his mind during the Canadian junior football championship game against the Okanagan Sun (1 pm, Mosaic Stadium).
Article content
He has dedicated this season to the memory of Christel Foord, who died July 13 after suffering a heart attack. She was 60.
"She was always really rooting for us and believing that our team could reach the national championship," Isaac Foord said.
"In the past — at least for my first couple of years with the Thunder — not a lot of people believed that. In those first couple of years, like 2017 and 2018 and before COVID, not a lot of people thought the Saskatoon Hilltops could ever be taken down because they had been the standard since 2013 and even before that.
Article content
"She was always a big believer in our team and the people that we had. I know that she would be super-proud of me and I want to win this for her."
That connection to his mother helped Fourd navigate the ups and downs of a junior football season.
"It makes me feel closer to my mom by playing football," he said. "Every time I'm out there, I get a weird feeling that her presence is with me. I'm not sure if it's gotten easier, but it's helped me feel closer to her since she's been gone. That has been really important to me."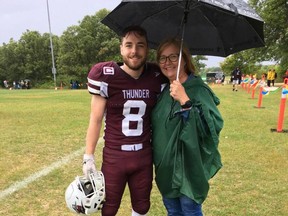 Fourd is in his fifth and final season with the Thunder. For the first four seasons, Christel attended every one of the Thunder's games — home and away — along with Isaac's father, Ron.
Isaac was reminded of the huge void on Aug. 13, when the Thunder opened its 2022 season.
Article content
"It was pretty emotional because it was my first game in forever without watching her," Foord said.
Despite missing a portion of training camp, Foord had nine receptions for 179 yards and three touchdowns in a season-opening, 57-15 win over the visiting Edmonton Wildcats.
Foord's first touchdown of the season was emotional because it also involved quarterback Carter Shewchuk, Isaac's best friend since their high school days with the Luther Lions. Foord's 51-yarder was the Thunder's first TD pass of the season.
"It just felt like she was with me," said Foord, 23. "I pointed up to her and broke down afterwards with Carter.
"It was a pretty special moment on the field because Carter had known my mom for a long time and he knew everything that I was going through."
Article content
Fourd entertained thoughts about taking a break from football, but knowing that the Thunder players and coaches were behind him convinced him to return.
"I knew that being around the guys would help because they really are like a second family," said Foord. "I had a quick thought about not playing, but it was really no question that I would be playing. I did take some time away from the team because I just needed to collect my thoughts."
The supportive extended family includes Scott MacAulay, the Thunder's head coach.
"Isaac is the guy who is dedicated to his teammates, but he also wanted to honor his mom," MacAulay said. "His mom was a huge football fan and a huge fan of the Regina Thunder. The fact that he was able to play in his final year in her name and in her honor is something that he had to do and wanted to do. He's done a great job with it."
Article content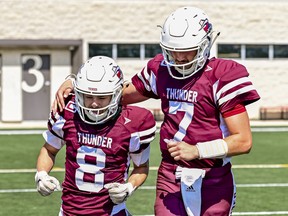 Foord has stood out with the Thunder, which carries a 10-0 regular-season and playoff record into Saturday's national final.
During the regular season, Foord had 40 receptions for 638 yards and eight touchdowns. He was also named a PFC all-star for the third time, in addition to being honored as an all-Canadian.
"He's a hell of an athlete," MacAulay said. "He's quick, shifty and smarter than everybody else. He knows how to read defenses and where to find the holes. He's courageous because he's not scared to go up and get the ball."
His size — 5-foot-6 and 165 pounds – isnt a deterrent.
"Ever since I played football, I was always a smaller guy on the field," said Foord. "I was never scared of big guys, no matter how big they were. I feel like I'm the same size as everyone out there and I do whatever I can do to help out. I just try to have fun out there."
Article content
Fourd's thoughts are also on having fun in the Thunder's second appearance in the Canadian Bowl. The Thunder, which played its first game in 2000, captured its lone national championship with a 55-26 win over the Vancouver Island Raiders in 2013.
The Thunder earned a berth in the 2022 Canadian Bowl by beating the Hilltops 39-21 in the PFC final. It was a hard-earned win over a perennial rival that had defeated the Thunder 29-9 in the 2021 league final.
"We've been trying to beat them for a long time, so that meant a lot," Foord said.
The Thunder's reward for beating the Hilltops is home-field advantage in the Canadian Bowl. Foord, who has three older sisters, expects to have a lot of supporters on hand.
"If you go to the game and you look for the two loudest-cheering people, those are probably my sisters," Foord said of Lindsay, Teddi and Paige. "They're pretty wild and crazy up in the stands.
Article content
"Since my mom passed, a lot of my family has come out to games to support me. It has brought everyone together."
mmccormick@postmedia.com
The sports world is ever-changing, as are the times. Supplement your steady diet of sports coverage by subscribing to the Regina Leader-Post's 306 Sports Fix newsletter. Each week, sports editor Rob Vanstone will provide additional commentary on the Roughriders, Pats and other teams/sports of interest, along with a peek behind the curtain. Click here to subscribe.
Thunder rolls over Hilltops to win PFC championship

Thunder's Ryland Leichert enjoyed flurry of activity