"We credit them, but at the end of it, man — we didn't play a clean football game. That'll be rectified for next week."
Article content
The University of Saskatchewan Huskies backloaded their best football to the fourth quarter Saturday, but it was enough to get them to their second consecutive Vanier Cup.
Article content
The Huskies — who were locked in a 13–13 tie with the StFX X-Men midway through the fourth quarter — detonated late, and won the Uteck Bowl 36–19.
Article content
That sends them to the Vanier Cup on Nov. 26 in London, Ont. against the Laval Rouge et Or, who fought back from a 17–0 first-quarter deficit to beat the Western Mustangs 27–20 in the Mitchell Bowl.
"Too many mistakes, penalties, bad decisions on our part," Huskies' head coach Scott Flory said after the Uteck game. "We credit them, but at the end of it, man — we didn't play a clean football game. That'll be rectified for next week."
The Huskies were heavy favorites entering Saturday's game in Antigonish, NS. The Atlantic conference hasn't sent a team to the Vanier Cup since 2007, and has suffered a string of bowl blowouts in recent years, including a 61-6 StFX loss to Western last season.
Article content
But the X-Men showed no signs of those previous struggles on Saturday — going into the half tied 6-6, and keeping it close until the late stages of the fourth quarter.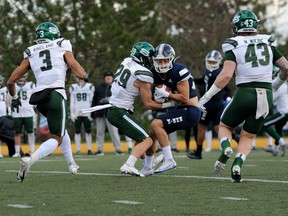 "Obviously, you're happy to win a national bowl game," Huskies' quarterback Mason Nyhus said after completing 30 of 38 passes for 327 yards and two touchdowns. "We hadn't done that in a long time, until last year, and it's a special thing. You don't want to take it for granted. I'm happy in the moment, but it could have been a bit cleaner."
The Huskies fumbled five times, losing two of them, including a Ted Kubongo fumble at the StFX one-yard line in the second quarter.
But then came that fourth quarter, especially the last eight minutes: StFX conceded a safety, Saskatchewan's Daniel Wiebe scored on a weaving 41-yard reception, John Stoll scored on a 26-yard interception return, the X-Men's Ben Harrington caught a 38 -yard touchdown pass, and then the Huskies' Daniel Perry caught a 26-yard toss into the end zone with 56 seconds on the clock.
Article content
It was a hectic way to end a football game—but, if you're the Huskies, a very good way.
"We're happy to win a national bowl game and get back to a national championship, where we want to be," Nyhus said. "That's our goal, is to win a national championship. But there's things we need to clean up, and we're well aware of that. Coaches, team, overall, we know what our next task at hand is. It's going to be a tough test, so we'll go back to the drawing board, have a hard week of practice, and move on."
The Huskies' Ryker Frank ran 20 times for 134 yards, including a two-yard touchdown plunge, and Wiebe caught six passes for 117.
David Solie added field goals of 32 and 36 yards.
StFX quarterback Silas Fagnan completed 17 of 36 for 258 yards, one touchdown and two interceptions, and also scored on a 19-yard touchdown run. Ben Hadley added field goals of 32 and 17 yards.
Article content
Next up: The Vanier, which Saskatchewan lost to Western last year 27-21.
"You can't lose sight of (going to the Vanier)," Flory said. "We're a little frustrated right now, but we can't lose sight of that. We get another opportunity next week, and we're excited for the opportunity. We've got a good group, we've got a good team, and we'll bounce back and play a cleaner game next week.
"It wasn't a surprise," he added of the StFX performance. "We knew they were going to be prepared. They're at home, they're well-coached, we knew we were going to get their best shot."
Big Bowl Week: Football Huskies head east for semifinal clash with underdog StFX

'It was a gritty win': Hardy Cup victory sends football Huskies into national semifinal
The news seems to be flying at us faster all the time. From COVID-19 updates to politics and crime and everything in between, it can be hard to keep up. With that in mind, the Saskatoon StarPhoenix has created an Afternoon headlines newsletter that can be delivered daily to your inbox to help make sure you are up to date with the most vital news of the day. Click here to subscribe.