Capcom first released the original Resident Evil 4 in 2005. Fast forward almost two decades; we are officially getting a release date for the Resident Evil 4 remake – one of the most beloved games in the series.
To provide a little background, Resident Evil 4 was the game that set the standards for the series going forward. Gone are those usual tank controls and the fixed camera angle; the Resident Evil 4 became an over-the-shoulder shooter with an emphasis on action.
With the game's release coming up pretty soon, here's everything we know about it, including the Resident Evil 4 Remake release date, trailer, platforms, possible gameplay, and leaks.
When is the Resident Evil 4 Remake Release Date?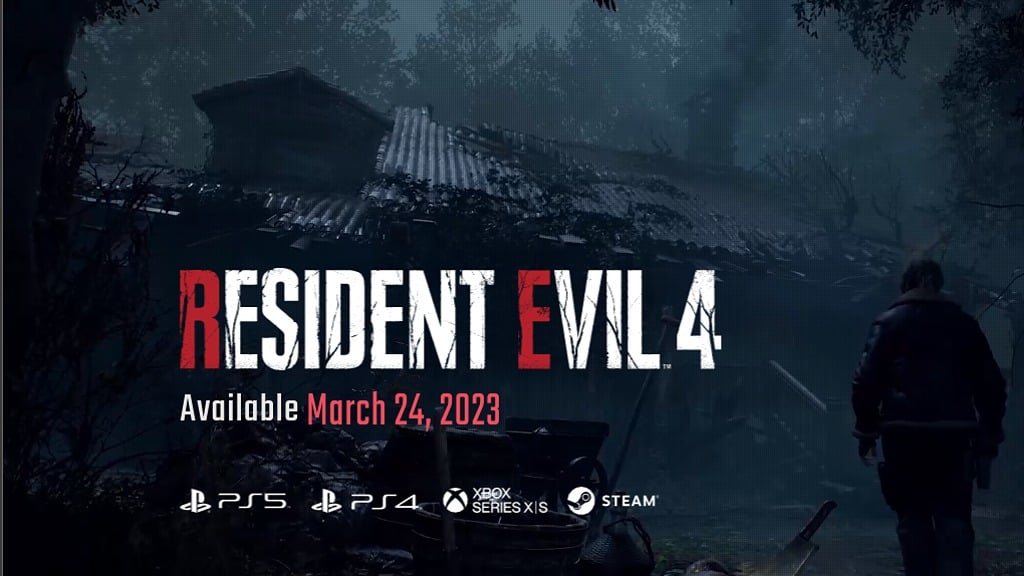 Resident Evil 4 Remake will be released on March 24, 2023. This launch date was revealed during the Resident Evil Showcase on Capcom's YouTube channel.
Capcom has already made a remake of Resident Evil 2 and 3, so a release date announcement for a Resident Evil 4 Remake seemed quite inevitable.
Plus, with the pre-order announcements popping up, we're approaching ever so close to getting our hands on the game!
What Platforms is Resident Evil 4 Remake Releasing on?
Capcom has announced that Resident Evil 4 Remake will release on PlayStation 4, PlayStation 5, Xbox Series X/S, and PC. Capcom revealed this announcement during the Developer Game Overview.
Many spectators had found this announcement surprising since the first Resident Evil 4 remake trailer was uploaded by PlayStation, which hinted at a possible exclusivity deal.
Can I Pre-order the Resident Evil 4 Remake?
Yes, Resident Evil 4 Remake is now available for pre-order.
With a clear release date for Resident Evil 4 Remake already confirmed, it's no surprise that pre-orders for the game are already underway. Especially for a remake that players have been waiting decades for.
With gamers around the world thrilled to be able to play a snappier and more modern version of this game, Capcom is in one hell of a sales run.
There is also a sale going on the pre-order of RE4: Remake if you order it at the FNATICAL Store.
| Edition | Steam Store | FNATICAL Store |
| --- | --- | --- |
| Standard Edition | $59.99 | $50.99 |
| Deluxe Edition | $69.99 | $59.49 |
Price Comparison Steam vs FNATICAL
A discount has never hurt anyone. Act quickly and save yourself some money!
Resident Evil 4 Remake Gameplay – What to Expect?
Capcom has spent considerable time and effort ensuring everything feels identical to the original Resident Evil 4. However, this is a remake, so being identical isn't good enough.
Here's every change we found after analyzing the revealed gameplay and trailer for the Resident Evil 4 remake:
Greater Focus on Exploration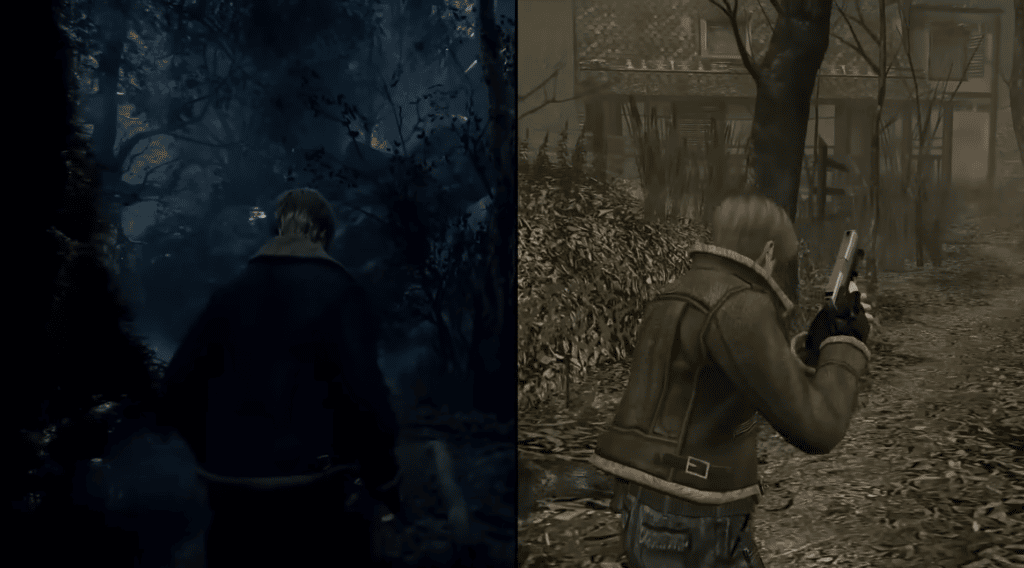 Right off the bat, we see Leon pathfinding his way through the woods to the first house. Compared to the original's haphazard approach, we will be getting more exploration time in instances that were not given the limelight in the original version.
The house itself has also been heavily expanded upon; multiple doors lead to multiple rooms with distinct props and assets. We also get a dark and creepy basement as a cherry on top!
A New Crouch Mechanic
A crouch mechanic being added to the Resident Evil 4 remake indicates we might be getting new ways to interact with the game's environment.
This will serve as a nice refreshment for the returning players while smoothing things out for the newbies to the franchise.
Since there was no interaction menu before the crouch, we assume Leon will automatically crouch wherever needed during pathfinding and/or use a manual key command.
It technically makes sense considering Capcom's goal is to be as faithful to the original Resident Evil 4 as possible without changing too many elements.
Are We Getting Stealth Mode in Resident Evil 4?
The chances are slim, but we've already seen Leon using crouch to hide from a Ganado in the revealed gameplay.
Considering this interaction, it won't be strange for Genados to have dynamic detection ranges – if not a full-blown stealth-based reaction.
You Can Now Stab Ganados Lunging At You!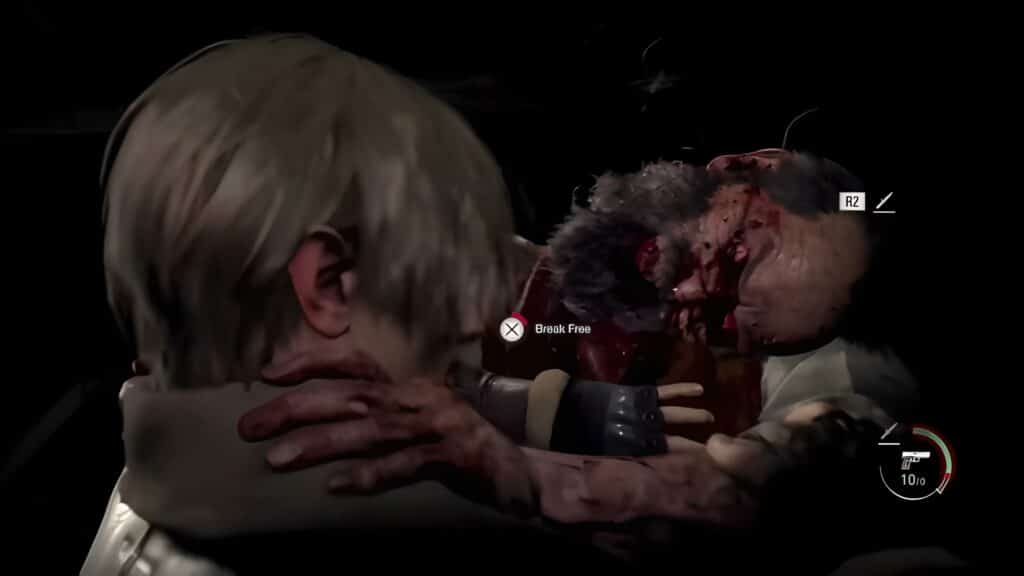 This mechanic was also added in the past Resident Evil Remakes. It has found a lot of success since then because having multiple options to defend yourself gives you more control in terms of decision-making.
In the past RE remakes, there were options to defend yourself using grenades. While this hasn't been revealed in the trailer and gameplay releases of Resident Evil 4, we might encounter a similar version later on; however, this is purely speculation-based.
Improvements in the Storyline
We seem to be getting much more than the base Resident Evil 4 since there's a lot more to process for both Leon and the player as soon he enters the room upstairs in the first house.
In addition, the girl in the main image has a different hairstyle than Ashley, indicating she might've been in a similar case. Since the uniforms are the same, we can also assume her to be a college acquaintance of Ashley.
A Brand New Parry Mechanic
In the Resident Evil Showcase, we got to see Leon parrying Ganado's attack by swinging his right hand. Just like most games, this mechanic is intended to target your reaction speed.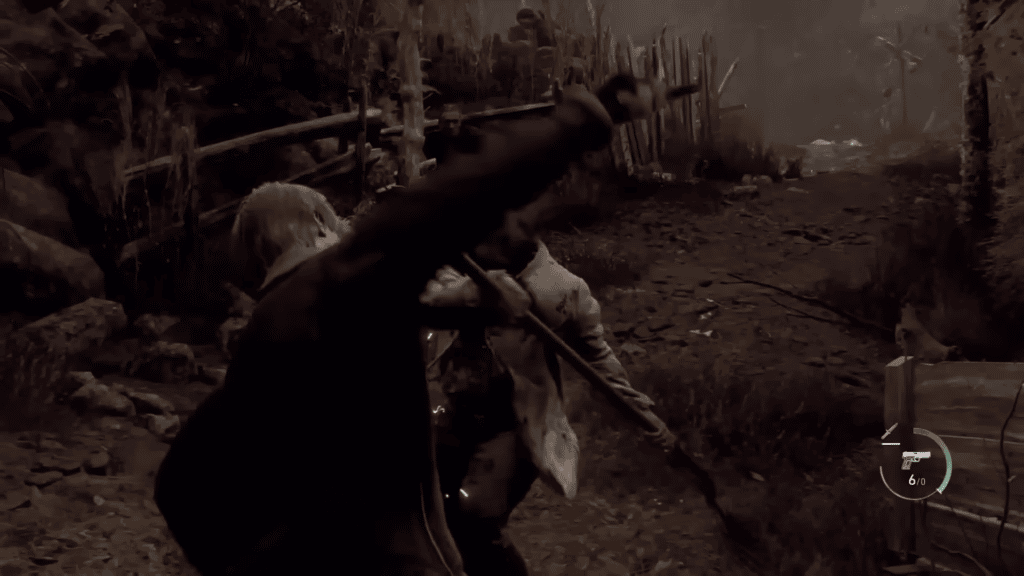 However, the new Parry mechanic might be limited to Ganados charging at you since the game is intended to prioritize exploration over combat. Therefore, making parrying spammable would defeat the purpose of having a low battle difficulty.
Hence, we can expect the parry mechanic to be limited in one way or another.
New Crafting Items
While the interface of the game has pretty much remained the same (aside from the visual improvements), it seems like we're getting new materials to experiment with.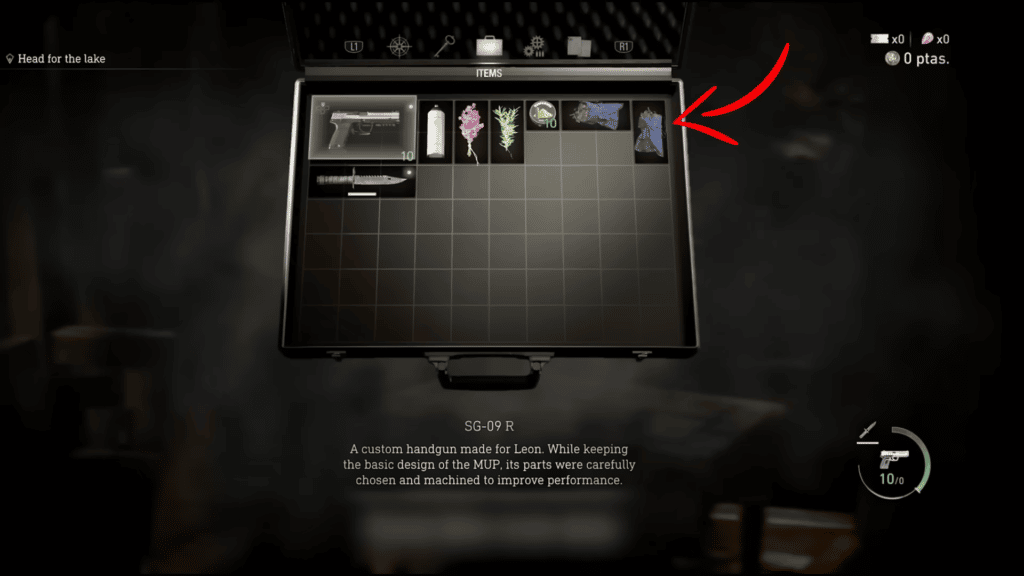 While none of the released clips expand on what these might be, we do get to see them in the ammo recipes. Therefore, get ready to farm a bunch of new materials during your playtime since ammo has never been abundant in the original Resident Evil 4.
Weapon Attachments are Here!
The merchant shop showcase has had us itching to try the new guns out. However, a bulk-requested feature was also hidden among the multiple lines of text:
It's currently unclear whether we'd be getting enhancements like muzzles or stocks. Considering we couldn't spot the iconic Laser Sight on any of the weapons, the weapon system might be more than just a bundle of basic improvements!
Trading is Also Possible Now!
There's a new menu in Resident Evil 4 Remake that lets you trade pink diamonds for specific items and weapons.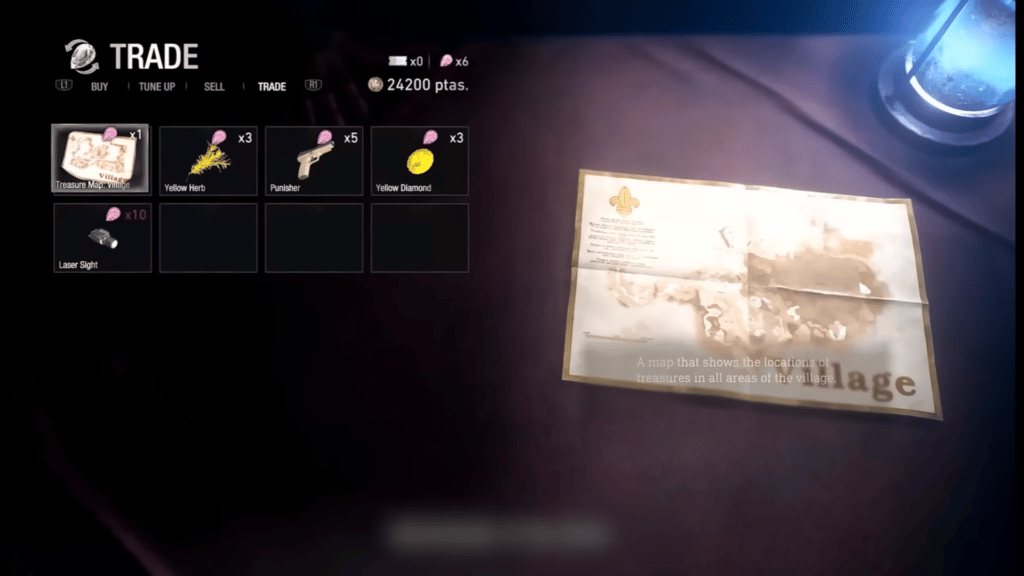 The showcased menu seems fairly empty. However, we can trust Capcom to add more items as we approach ever-so-close to the release date of Resident Evil 4 Remake!
Resident Evil 4 Remake Will be Using Denuvo
Capcom has been pouring blood, sweat, and tears into Resident Evil 4 Remake. You don't want people ripping you off for free when you bend backward to put something of this caliber out into the world. That is why Capcom decided to use the notorious Denuvo DRM to protect their game against piracy.
The scandalous DRM has been known to cause stuttering in games, and this has been proven multiple times. We are really hoping that Capcom knows what they are doing, considering things didn't go well with Resident Evil Village, which also used Denuvo. The performance of which was basically plagued by the DRM Software.
Fans have high hopes for Resident Evil 4 Remake, and messing it up will be one of the greatest mess-ups of the year for the Resident Evil developers.
Resident Evil 4 Remake – System Requirements
Here are the official system requirements for Resident Evil Remake:
Minimum PC Requirements
CPU: AMD Ryzen 3 1200 / Intel Core i5-7500
RAM: 8 GB
OS: Windows 10 (64-bit)
VIDEO CARD: AMD Radeon RX 560 with 4GB VRAM / NVIDIA GeForce GTX 1050 Ti with 4GB VRAM
PIXEL SHADER: 5.1
VERTEX SHADER: 5.1
DirectX: Version 12
DEDICATED VIDEO RAM: 4096 MB
ADDITIONAL NOTES: Estimated performance (when set to Prioritize Performance): 1080p/60fps. ・Framerate might drop in graphics-intensive scenes. ・AMD Radeon RX 6700 XT or NVIDIA GeForce RTX 2060 required to support ray tracing.
Recommended PC Requirements
CPU: AMD Ryzen 5 3600 / Intel Core i7 8700
RAM: 16 GB
OS: Windows 10 (64-bit)
VIDEO CARD: AMD Radeon RX 5700 / NVIDIA GeForce GTX 1070
PIXEL SHADER: 5.1
VERTEX SHADER: 5.1
DirectX: Version 12
DEDICATED VIDEO RAM: 8192 MB
ADDITIONAL NOTES: Estimated performance: 1080p/60fps ・Framerate might drop in graphics-intensive scenes. ・AMD Radeon RX 6700 XT or NVIDIA GeForce RTX 2070 required to support ray tracing.
Will There Be Multiple Editions of Resident Evil 4 Remake?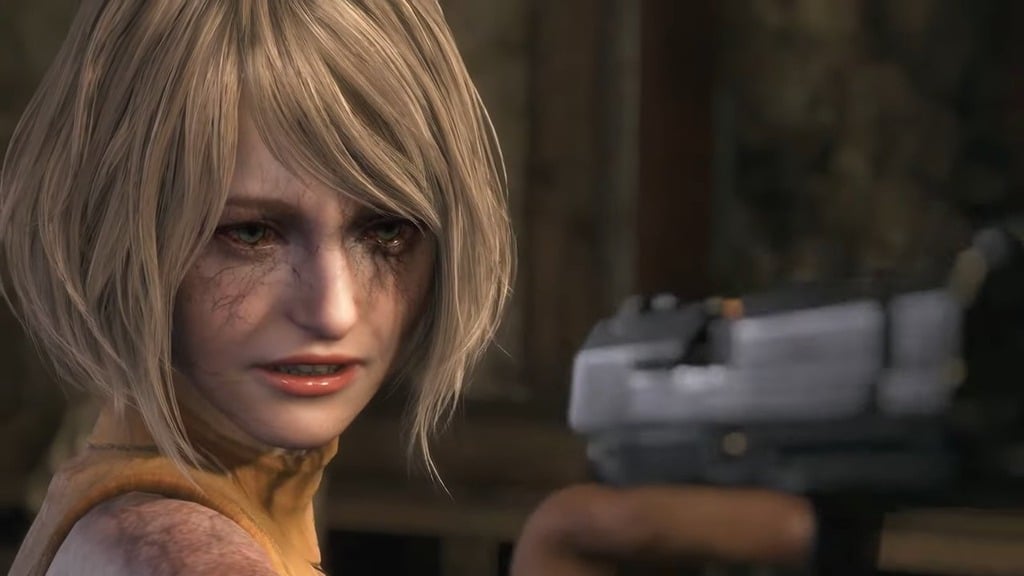 Yes, there will be more than one edition of Resident Evil 4 Remake.
Capcom has revealed two versions of the game, apart from the standard edition. The Resident Evil 4 Remake now has a Deluxe Edition and a Collector's Edition, both with their share of themed collectibles.
RE4 Remake Deluxe Edition
The Deluxe Edition has a variety of goodies for players, including special weapons, character costumes, and the original game's soundtrack, along with more extras. This edition of the game will set players back $69.99/£64.99, region respectively.
The entire list of everything included in this version is as follows:
2-themed Costumes: For both Leon and Ashley.
Good-and-Bad-Themed Costumes and Filters: For Leon, only.
Deluxe Weapons: "Sentinel Nine" and "Skull Shaker".
Option to Replace: The remake's soundtrack with the original version from Resident Evil 4.
Treasure Map Expansion: unlocks additional loot not found on regular maps.
RE4 Remake Collector's Edition
If you wanna spend a substantial amount more to appease your inner Resident Evil fan, you can get the Collector's Edition.
This version will be available to buy for a grand amount of $249.99/£249.99. It contains all the items from the Deluxe Edition and amazing physical collectibles to drool over, such as a Leon figure and an artbook to enjoy key game artwork.
The entire list of everything in this edition is as follows:
Deluxe Edition DLC
Digital game soundtrack
Artbook
Steelbook
Special Map
Leon S. Kennedy figure
Collector's Box
In addition to these extra goodies, pre-ordering the editions also nets players additional in-game items. For pre-orders of the Standard Edition, players get the Attaché Case: Gold and the Special Charm: Handgun Ammo.
Similarly, booking a pre-order for either the Deluxe or Collector's version will get you the Attaché Case: Classic and the Special Charm: Green Herb, along with the items mentioned before for the Standard Edition. Pre-orders are currently open, so make your way to online stores and get your hands on whatever edition you want.
Will the Resident Evil 4 Remake Get Multiplayer?
There is no official announcement that RE4 Remake will get a multiplayer mode.
Although there has been no official word from Capcom relating to Resident Evil 4 Remake getting a multiplier mode, there are several reasons to suspect that it might be happening. ESRB, or Entertainment Software Rating Board, mentioned on its website that the game would have in-game purchases.
This might seem like a shot in the dark, but this announcement could potentially mean that Resident Evil 4 Remake could be getting a multiplayer mode. Resident Evil 3 Remake also featured in-game purchases, and it did have a multiplayer mode called Resident Evil Resistance. This additional bundle served as the co-op mode for the base game.
Another thing worth noticing is that the in-game purchases are only for PlayStation 4, PlayStation 5, and Xbox series; there is no mention of PC. Many things point us in the direction of a multiplayer mode, and at the same time, there are things that contradict the whole theory.
We will have to wait for an official announcement to see how Capcom plans to do things this time, considering the RE 4 Remake is probably one of the most anticipated remakes of the franchise.
Will the Resident Evil 4 Remake Feature Cross Save?
While there's no official confirmation on the matter, it's safe to assume that the developers would certainly keep this in mind. Not only is the game being released on both generations of the PlayStation, but it's also coming to PSVR 2. This means players who have the game on all these platforms would definitely want to switch over from time to time.
Resident Evil 7, 2, and 3 featured the ability to carry over their saves to the upgraded console versions when the game was released on them. Keeping that in mind, one would assume they would give the RE 4 Remake the same treatment. Immensely positive reactions and sales numbers for the previous games would definitely be considered when making this decision.
Resident Evil 4 Remake: Leaks and Rumors
Since the reveal of the Resident Evil 4 Remake trailer, there have been many rumors about the deviation of the game from the original. Take all this information with a grain of salt, as Capcom has not yet confirmed nor denied any of these.
Expanded Assignment: Ada and Separate Ways.
Branched Experiences: Ashley will no longer follow Leon and opt to hide in a special safe room while Leon is exploring the area. This might offer a new dynamic to the rescue, although it remains to be seen how it affects gameplay.
Spanish Merchant: The Merchant will now have a Spanish accent instead of an Australian from the original.
Jack Krauser: Capcom will remove Jack Krauser from the game, one of the bosses in the original Resident Evil 4.
Luis Sera: He will have more lore and role in the remake, fleshing out the character and making him more impactful.
Salazar: He is no longer a dwarf; instead, he is now a sick and frail old man.
Change of Pace: We will have a segment of Ashley taking Leon's pistol and retrieving the antidote herself, a change of pace from the previous game's scene.
The Jester: Capcom removed the Novistadors and replaced them with a pursuer enemy called The Jester.
Changing Roles: The game mode called "The Mercenaries" returns with Luis replacing Krauser as a playable character.
We'll update this section if we get official news, verifying whether these leaks are accurate.
---
Resident Evil 4 is indeed an iconic stepping stone into the series. It is a well-balanced game of action, horror, and survival. With the Resident Evil 4 Remake trailer and introduced gameplay looking smoother than ever, the release date is turning out to be a hard-to-wait-for event!
With the leaks seemingly having significant reworked content, how do you feel about the remake? Do you think that this remake will surpass the original? Please leave us your thoughts in the comments below!