Two people killed after Russian missiles crossed into Poland, says US intelligence official
A senior US intelligence official said Russian missiles crossed into Nato member Poland, killing two people.
Poland's prime minister Mateusz Morawiecki has convened an urgent meeting of a committee for national security and defense affairs, the government spokesman Piotr Müller said on Twitter.
Müller did not mention what the committee was due to discuss but local media reported that the meeting may be related to a reported explosion on the Polish border with Ukraine.
Russia shelled cities and energy facilities across Ukraine on Tuesday, including Lviv, a city in the west of the country close to Poland.
Key events
Seven million homes have been left without power after Russian missile strikes hit cities across Ukraine earlier today.
Some 15 energy facilities were damaged as a result of the attacks, said Kyrylo Tymoshenko, the deputy head of the Ukrainian president's office. He added:
Our power engineers are now doing everything to reconnect the power supply as soon as possible.
In Lyiv, in the west of the country, its mayor said 80% of the city was without power after it came under attack. The western Ternopil region said 90% of users were cut off.
The Dnipropetrovsk region's military administration said an energy facility in Kryvyi Rih had been hit, creating a "complicated" situation for the grid.
Kyiv's mayor, Vitali Klitschko, said at least half of the city's residents were without power.
Moldova suffers blackouts after Russian missile strikes across Ukraine
Moldova's foreign minister, Nicu Popescu said parts of the country were suffering from power outages as a result of today's Russian strikes on Ukraine.
Writing on Twitter, Popescu said:
Every bomb falling on Ukraine is also affecting Moldova and our people. We call on Russia to stop the destruction now.
Officials said the strikes earlier today caused the automatic safety shutdown of systems that carry electricity supplies to Moldova. Dozens of settlements were left without electricity as a result, they added.
In response, Moldova's president, Maia Sandu, said:
We strongly condemn this new attack, the largest since the beginning of the war unleashed by Russia against Ukraine.
The US secretary of state, Antony Blinken, has condemned Russia's missile attacks and vowed to stand with Ukraine "for as long as it takes".
In a tweet, Blinken said Ukraine's president, Volodymyr Zelenskiy, "Demonstrated leadership again today by making clear he is prepared for diplomacy towards a just end to the war Russia started".
The response from Moscow "was another wave of missiles", he said, adding:
These attacks will not break Ukraine's will – we will be with Ukraine for as long as it takes.
Ukraine's prime minister Denys Shmyal said Russia's latest missile attacks have "shown their so-called willingness to negotiate".
China praises Russia's 'responsible' attitude to nuclear war
China's foreign minister, Wang Yi, has praised Russia's "rational" and "responsible" attitude to nuclear war during a meeting with his Russian counterpart, Sergei Lavrov, at the G20 summit.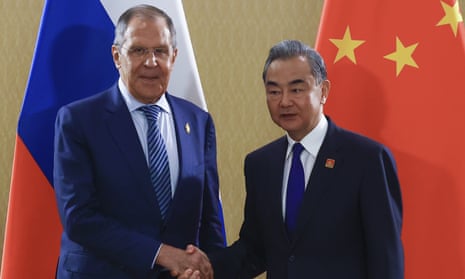 Wang was quoted by the state news agency Xinhua as saying:
China noticed that Russia has recently reaffirmed the established position that 'a nuclear war cannot be won and must never be fought', which shows Russia's rational and responsible attitude.
The Chinese minister also said Beijing was pleased to see Moscow signal its willingness to engage in talks over Ukraine and agree to resume the Black Sea grain initiative, according to a Chinese foreign ministry statement.
China was "willing to work with Russia to push forward their high-level exchanges and communication in various fields, deepen bilateral practical cooperation and facilitate personnel exchanges", Wang was quoted as saying.
Ukrainian authorities have said the latest wave of Russian missile strikes was targeted at the country's infrastructure facilities.
The energy situation across Ukraine has been left "critical" as a result of the strikes, according to the deputy head of the presidential administration, Kyrylo Tymoshenko.
Kyiv's city state administration has said that the power blackouts mean that the country's air raid sirens do not work, the FT's Christopher Miller says.
The UK foreign secretary James Cleverly has said Russia's latest missile attacks on Ukraine demonstrate President Vladimir Putin's "weakness".
Ukraine is currently experiencing "major internet disruption", with live metrics showing that national connectivity is at 67% of previous levels, according to the internet monitoring group Netblocks.
Most regions of the country have been affected by a nationwide power outage amid intense Russian missile attacks targeting critical infrastructure, the group said.
Kyiv authorities said four missiles were intercepted by air defenses but those that passed through hit two multi-storey residential buildings in the Pechersk district.
Footage released by Ukraine showed the aftermath of the strike. The area is a few miles north of the presidential palace.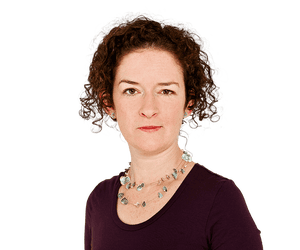 Kate Connolly
Germany has completed construction of its first floating terminal to receive liquefied natural gas (LNG) which its economy minister said would be vital to securing energy supplies to the country over the winter months.
Robert Habeck described the first of five planned floating terminals at the North Sea port of Wilhelmshaven as being "a central building block for the security of our energy supplies this coming winter" as Germany races to find alternatives to Russian pipeline gas which it had relied on for years until supplies were halted in conjunction with the invasion of Ukraine.
The government is working on introducing a total of five floating LNG terminals to German ports, each with a capacity of at least five billion m3 per year. The terminal at Wilhelmshaven, and another at Brunsbüttel, are due to be operational at the turn of the year.
Germany used to receive nearly a third of its natural gas supplies via pipeline from Russia, before Moscow started reducing the flow following its invasion of Ukraine, in an apparent reaction to sanctions placed on it, and turned off supplies completely in late August.