'Hockey is interesting to me because I know the rules'
Article content
Ryan Reynolds has fought and cursed his way through two Deadpool movies, but learning to sing and dance alongside Will Ferrell in Spirited — a new holiday movie now streaming on Apple TV+ — is the hardest thing he's ever done.
Article content
"It's unlikely I would have done a movie like this five or even 10 years ago because I don't think I would have given myself permission to suck so much at first," Reynolds, 46, concedes in a video chat from New York City. .
Article content
In the slick musical revamp of A Christmas Carol from director Sean AndersDaddy's Home), Reynolds plays Clint Briggs, a vicious Scrooge-like marketing exec who learns about the important things in life after he is visited by the Ghosts of Christmas Past (Glow's Sunita Mani), Present (Ferrell) and the faceless Yet-To-Come (voiced by Tracy Morgan). It's the first time the perennial Charles Dickens 1843 classic gives the Ghosts a starring role as Clint forces Ferrell's conflicted character to re-examine his past and possible future with a sincere woman (Octavia Spencer) he's met while on Earth.
Article content
But with music from Benj Pasek and Justin Paul, the duo behind La La Land, The Greatest Showman and Dear Evan HansenReynolds says he felt like he could lean into the boisterous numbers to put an irreverent spin on the Christmas staple.
"I wasn't trying to be the best singer in the world, I was trying to be the best singer I could possibly be. That was a lower and much more achievable bar to reach," he quips.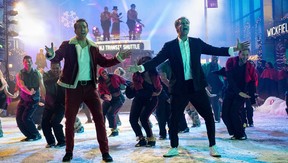 Plus, he adds, he had dozens of takes to nail down his smart-alecky routines.
So now that he's an expert, we can expect a live rendition of Spirited on TV screens five years from now?
"I promise you that won't happen," he jokes.
I got a package of clothes that were all my brother's hand-me-downs, and inside that package was some underwear that I don't even think had been washed

Ryan Reynolds reveals the worst Christmas gift he's ever received
What may actually happen, though, is Reynolds becoming a part-owner of the NHL's Ottawa Senators, who are being shopped around by the club's current owners, the late Eugene Melnyk's daughters, Olivia and Anna.
Article content
Owning a sports team wouldn't be new to the actor.
Last year, Reynolds joined forces with It's Always Sunny in Philadelphia star Rob McElhenney to purchase the Welsh football club Wrexham AFC.
Reynolds said that with Wrexham consuming the first half of his daily activities, he could devote the other half to an NHL club.
"I was on the edge of my seat at 7 am on the East Coast watching Wrexham this morning," he says.
In an interview with Postmedia on a recent Sunday afternoon, Reynolds discussed why he said yes to a movie musical, how he's different than the character he plays in Spirited and why he's suddenly intrigued by the prospect of owning a hockey team.
What did you think when you got the pitch for this new take on A Christmas Carol,
Article content
"I had never done a movie where I was singing and dancing and I don't profess to be a natural singer and dancer, but I do feel at this stage of my life I am comfortable with learning something completely new, and I'm comfortable with not being an expert at something. That allows me the space to learn and grow in a certain craft. But I think the real reason I wanted to do the movie — and the reason I was in before I even finished the script — was I've spent my entire professional career wanting to work with Will Ferrell.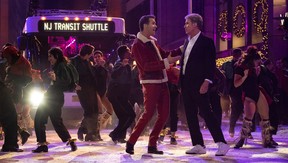 "I think you'd be hard-pressed to find another comedic performer who has contributed more to the landscape and comedic lexicon that we currently live and thrive in. He's one of those actors whom people, old and young, quote without even knowing they are quoting him. So I've always admired him, particularly his vulnerability. He's so vulnerable and that makes him so funny. You can see his heart beating in his chest in practically every scene. So to spend time with him in such a challenging environment was one of the great privileges of my career and life."
Article content
How did you know you could actually carry a tune? Did someone come along and tell you: "You have a great voice?"
"I don't know that anyone has ever said that. But you surrender to the process. You're working with these people who are absolute experts at their craft and they have a lifetime of experience. It was really just about letting go and being comfortable. It felt safe to suck at first and then that safety gave me a foothold into becoming what I would guess is adequate. We also had 40, 50 takes to get this right. It wasn't a live production, thank God. But I also had Will with me—we were in the same boat. We both had to learn it from scratch and we spent months together learning these numbers and dance routines before we shot a single piece of footage. I look back at that with absolute fondness."
Article content
The character you play in Spirited is a win-at-all-costs kind of guy. I'm sure you've met a lot of people like that. How have you run away from that mindset in your own career?
"I've met a lot of people like that — people who would sashimi their own children to get ahead. But I've learned that you don't have to screw people over to get ahead. You can operate with a modicum of integrity and still do really well. Weirdly enough, the concepts that have helped me professionally are the opposite of what Clint's are, which is that we are all designed and hardwired to crush, win and kill. If you can deactivate that instinct a little bit, and instead of trying to win, you try to learn from somebody, that's the thing that's helped me the most. When I find that I'm at odds with somebody, if I avoid trying to win, and instead seek to learn something from them, it doesn't mean that I have to agree with them, but it creates a nice foundation for conflict resolution. and allows everybody to kind of win. I know that's esoteric and silly, but I do think about the conflict-resolution courses that I took when I was in my 20s and those really changed my life in a way that trying to win never could."
Article content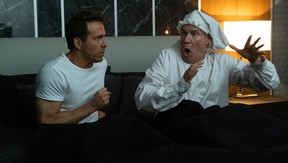 Spirited is going to be part of people's holiday traditions now for years to come. What's the worst Christmas gift you ever got?
"I grew up in Vancouver and we were a pretty working-class family, so my Christmas presents were often hand-me-downs. So probably the worst gift I got was — and my mom still claims it was an accident — but I got a package of clothes that were all my brother's hand-me-downs, and inside that package was some underwear that I don't even think had been washed. Looking back, I would say that was the apex of horrible gifts that I have received throughout my life, and I've received many horrible gifts, but that's one I'll always remember."
Earlier this month, you set the Internet ablaze with talk you wanted to purchase the Ottawa Senators. Why the senses and just how interested are you?
"I'm not going to get into any of that stuff. But I do think hockey is interesting to me because I know the rules. I'd say I'm only a B-minus on the rules of European football, and I've owned that team for almost two years."
Spirited is streaming now on Apple TV+
Ryan Reynolds and Colin Hanks planning John Candy documentary

Hugh Jackman returning as Wolverine in 'Deadpool 3'

Ryan Reynolds levels up in action-comedy 'Free Guy'