"There's lots of work to be done. The job's not finished yet."
Article content
The University of Saskatchewan Huskies slashed through ice, snow and wind Saturday during a slick trip to the Hardy Cup.
Article content
The Huskies fought off a prairie snowstorm at Griffiths Stadium while beating the visiting Manitoba Bisons 37-9 in their Canada West semifinal. They'll play the British Columbia Thunderbirds, who beat the Regina Rams 28-14 Saturday, in next weekend's Hardy Cup.
Article content
"There's lots of work to be done. The job's not finished yet," Huskies' defensive back Charlie Ringland said after recording a career-high three interceptions Saturday. "But it's nice to secure the win at home, and move on to next week."
The Huskies played on an ice-covered field in Quebec City during last season's 27-21 Vanier Cup loss to Western, and they knew a few days in advance that a storm was brewing in Saskatoon. On the equipment side, they paid particular attention to footwear.
Article content
"We were prepared," said Huskies' head coach Scotty Flory. "We had stock-loads from last year. November on the prairies — you just don't know what you're going to get, right? We've got bags of broomball shoes ready to go if we needed them, but we didn't need them. The field was in excellent condition."
Excellent was a relative term, of course, but workers labored to make the surface as playable as possible. Snow obscured the yard markers, leaving the turf a sheet of white.
"It was obviously a little bit of a change, compared to a clean field," said Huskies' quarterback Ethan Watson. "But the footing wasn't horrible. I said a couple times that nothing's as bad as it was last year, playing in Laval for the Vanier, so we'll take anything better than that."
Article content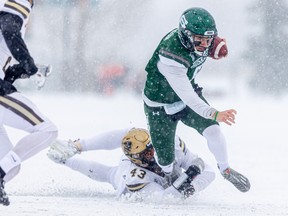 Watson, a backup quarterback who was used on short-yardage plays this season, found himself a bigger part of the Huskies' game-day package as they adjusted for weather conditions. He spotted in on more running plays than usual, and used his legs in a big way — collecting a game-high eight carries for 103 yards and two touchdowns. The latter came on a 56-yard scramble down the left sideline, Bisons in pursuit.
"We had an adjusted game plan on both sides of the ball; we had backup game plans ready to go in case of adverse weather, and we needed it," Flory said. "We had a whole package with Ethan Watson to get him around and running, and you could see the effectiveness it had for us on offence.
"He's got a special skill set. Not only can he throw the ball, but his legs are very valuable. And we saw that here today."
Article content
The Huskies' starting quarterback Mason Nyhus, named a Canada West all-star on Friday, saw most of the offensive plays and he completed 16 of 28 passes under difficult conditions for 153 yards, one touchdown and one interception.
His Bisons counterpart, Des Catellier, hit eight of 21 for 105 yards, one touchdown and the three interception tosses to Ringland.
Watson scored on touchdown runs of one and 56 yards, with the other Huskie major coming from Rhett Vavra on a four-yard catch. David Solie added field goals of 20 and 28 yards.
Manitoba got a 30-yard touchdown catch from De Shawn Le Jour in the third quarter, closing a 26-2 deficit to 26-9.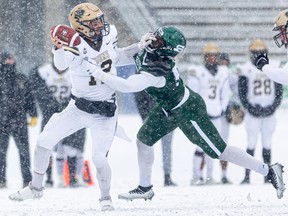 "I'm obviously glad to contribute," said Watson, who notched nine carries for 26 yards and two touchdowns during the regular season. "I love these boys, and we're a tight-knit team. Any contribution you can make is great."
Article content
Said Flory: "We expect to be in (the Hardy Cup), and we set ourselves up through the regular season. We took care of step one.
"I said to the team, I'm super proud of them. We gave up nine points here, on a safety and a mistake on our side (during the pass to Le Jour), but our guys never stopped playing. We locked up the ball, and we did all the right things we needed to do in adverse weather conditions."
'Always tweaking, always perfecting': Solie's path with Huskies not easy, but always reliable

It's big-game season as football Huskies move into playoffs
The news seems to be flying at us faster all the time. From COVID-19 updates to politics and crime and everything in between, it can be hard to keep up. With that in mind, the Saskatoon StarPhoenix has created an Afternoon Headlines newsletter that can be delivered daily to your inbox to help make sure you are up to date with the most vital news of the day. Click here to subscribe.