Article content
GAVLE, Sweden — Team Canada's young warriors shifted nervously in their wheelchairs and walkers, on a world stage for the first time.
Article content
Coach Alex McLean, in a wheelchair himself, called a huddle. "Don't fear the moment," he told them quietly. "Embrace it."
Article content
And embrace it they did. They were lowered into their dashing electric carts — with a hockey blade out front, and a joystick made for kids with disabilities — and defined the odds.
The squad from Variety Village are newly minted silver medallists. They went 4-3 for second place in their division at the World Cup of Volt Hockey in this historic city on the Baltic Sea.
"We did astonishingly better than we thought we would," says my wise friend, Zach Rayment, 13.
"I'm so proud and happy to represent my country, and to have these friends to do it with."
Friends like Jacob McArthur, 14, who led team scoring with a half-dozen goals and fell in love with the Team USA mascot, a spaniel puppy named Lollipop. And Bhavjeet Sandhu, 18, who has muscular dystrophy, as do Jacob and coach McLean. When Bhavjeet cut his neck in a nasty spill in the final game, it moved Jacob to tears. Jacob has always looked up to Bhavjeet, long the team's ace.
Article content
Friends like Cam Purdy, 22, the squad's grizzled vet and Alexander Morrison, 16, who both have cerebral palsy but are rocks on defense.
I heard Liam Marriage, 12, say "excuse me" upon approaching a ref and his pal, the aforementioned Zach, say "sorry" after bumping a Norwegian.
Flashy Jackson Deschenes, 12, scored what his coach called the goal of the tournament — kid and cart airborne like Bobby Orr.
Albertans on a second Team Canada, who had never played a real game before this, were plucky but winless in the same division.
Recommended video
The Swedes dominated all levels, from Elite down, but the match that will live in Volt hockey lore in Scandinavia — where the game was invented — is the match between the two Team Canadas.
Article content
Basically, they invented demolition Volt hockey. Or bumper Volt. Carts careened off each other, the plastic ball ricocheted like shrapnel, and the refs threw up their hands. The crowd of Canadian parents went wild, bemusing the stoic Swedes. The Variety Village side edged the westerners while resting their stars.
What the Albertans lacked in scoring, defense, goal tending, skill, size, strength and experience, they made up in charm.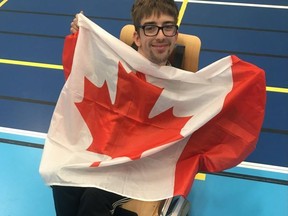 These included the World Cup's youngest players.
Harvey Hu, 8, of Calgary, provided running commentary of his shifts, shrieking "Oh, no" every time a Scandinavian scored, which was often. Harvey has cerebral palsy, plus a rare genetic disorder.
When Braeden Palmer's mom Cassandra yelled, "Watch the ball, Braeden!" her eight-year-old son fired back, "Stop calling me!" When this amused the crowd, Braeden added, at the top of his lungs, "Why are you laughing? This is a game, not a comedy!"
Article content
Braeden's spark endures, though, he has rods in his back, juvenile rheumatoid arthritis, and only half of his heart works. He's had nine surgeries, none of which impacted his sense of humour.
Braeden and Kelty Allanach, 12, played rock-paper-scissors to decide who got stuck in goal on their shift. Kelty has cerebral palsy and is a model in Edmonton.
The team's other girl, Olivia Norman, 11, of Fort McMurray, made a brilliant save midway through a 19-2 shellacking, came off the court and told me, dryly, "Right place, right time."
Josh Fitzpatrick, 12, was the Alberta team's multiple goal scorer, putting both in that 19-2 opener. He's also from Fort McMurray, as are defense stalwarts Blake Fielder and Stephen Liu, both 10.
"Watch out for Team Alberta," kindly Zach Rayment tells me after the Canada game. "They're going places."
No doubt they are. Variety Village is already there — or nearly so, with greater heights to climb.
"Now we know we're a legitimate team," says Zach.
"I'm proud of them," says coach McLean.
We all should be.