[ad_1]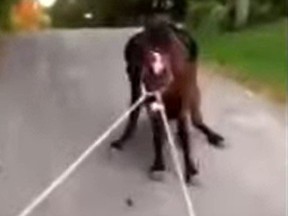 Article content
(WARNING: Graphic images)
Article content
A mystery video depicting the depraved and diabolical torture of a horse has police and animal protectors searching for a callous offender.
Article content
The vicious torment of this beautiful horse is so grotesque that you may not even want to read this column, let alone watch the disturbing video evidence. It's the kind of evil you might find in a Stephen King novel but something that is believed to have happened just 90 minutes east of Toronto — in the Northumberland, Kawartha Lakes area.
As first brought to light by award-winning journalist Pete Fisher of Today's Northumberland, the OPP are investigating a troubling case of animal cruelty as posted on YouTube in which a horse has ropes tied to his head and is being dragged along a roadway in obvious pain and discomfort.
Article content
"Good girl," a female voice is heard saying to the horse.
Article content
The second part of the undated video shows the horse back in a barn with bandages on its legs, standing next to several pools of blood with a woman offering chilling commentary.
"Why are you a retard? Why, why, why?" she is heard saying to the horse, as the camera pans to its head.
Article content
She is also heard saying it was "awesome" that the horse was "literally squirting blood."
The whole thing is blood curdling.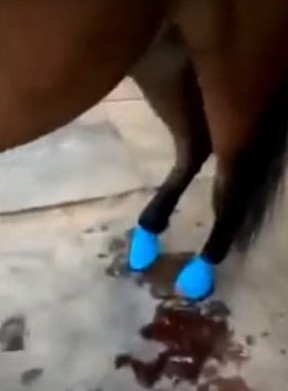 OPP spokesperson Bill Dickson told The Toronto Sun "the OPP and the Animal Welfare Service" began investigating this egregious act of violence on Nov. 3 but they are still trying to determine where exactly this happened as well as identify the woman in the video.
Police also want to check on the welfare of the horse.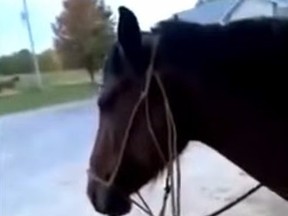 There are some clues offered in this video, including the woman allowing her legs, hands and feet to be seen in the shots. She's wearing a watch with a black band, shoes with a unique pattern and pink socks.
If you know her, please call the Northumberland detachment of the OPP straight away.
Article content
The equine community has identified an area horse trainer as a suspect in online reports. But there was no immediate word from police on whether they have confirmed the woman's identity or laid charges.
I see this as a crisis situation for this horse and potentially others. There is an immediate need for intervention and rescue along with serious criminal charges for whoever is responsible for this heinous act.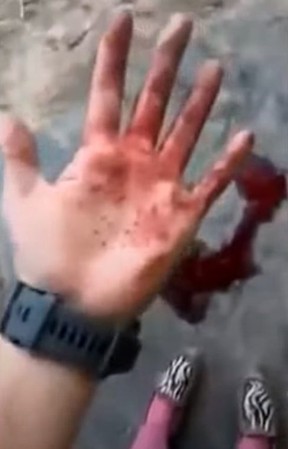 It actually may even be more malicious than something out of horror writer Stephen King's story, but it did happen in the county where they filmed a movie version of his novel. it, Unlikely it, which the locals were proud to host, this horror video has shocked and appalled the people of Northumberland who pride themselves on being a world-renowned center in the equine world.
While Northumberland is known for breeding, training and boarding horses, it's also known for kindly caring for them. This video shows, in this case, that the high standard the area is known for was violated.
jwarmington@postmedia.com